Delphi recently celebrated its 27th anniversary and in line with this celebration is a special webinar hosted by Jim McKeeth along with other Embarcadero MVPs like Ian Barker, Kyle Wheeler, David Millington, and Marco Cantu. In connection with this year's team "Building the Future", the panel will discuss the future of Delphi and how it continues to shape the future of software development. The video highlights some exciting topics from useful windows app development tools like Skia4Delphi to some useful modules and libraries like Python4Delphi and more.
See an introduction to WinUI 3
The webinar will first introduce us to the so-called "Ultimate Delphi eBook bundle" that is composed of useful eBooks to help you master Delphi. These include the Object Pascal Handbook by Marco Cantu, Code Faster in Delphi by Alister Christie, and eBooks by Nick Hodges including the Dependency Injection in Delphi, Coding in Delphi, and More Coding in Delphi. The panel will also discuss the WinUI 3 which is said to be the next generation of Microsoft's Windows UI library. The video will highlight some of its runtime components, XAML-Based UI Elements, and Event handlers.
Learn all about the Skia4Delphi project
Ian Barker will also discuss more about the Skia4Delphi, an open-source 2D graphics library that provides common APIs that work across a variety of hardware and software platforms. Barker will revisit his Star Trek-inspired data dashboard that was built using the Skia4Delphi library. It is also interesting to note that Paulo César and Vinícius Felipe Botelho Barbosa, the duo behind Skia4Delphi were announced as Delphi Award Winners for the year 2021.
Did you know about the Python Library for Delphi?
The webinar will also revisit some familiar topics including the Python4Delphi Library which provides a set of free components that wrap up the Python DLL into Delphi which makes it very easy to use python as a scripting language for Delphi applications. It will also highlight both the Delphi VCL for Python and Delphi FMX for Python modules and the benefits of using two different programming languages in one development environment.
To learn more about the future of Delphi, feel free to watch the webinar below.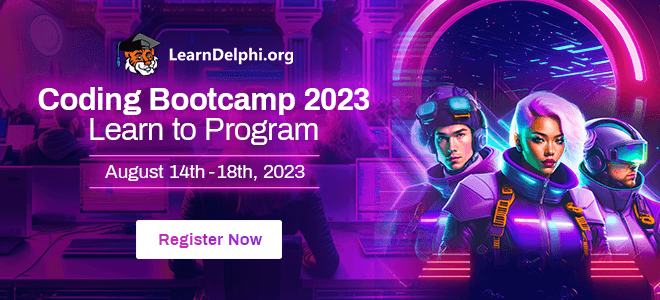 ---