As Microsoft recently released Windows 11 offering a vast of incredible improvements, Delphi and the RAD Studio ide software is also moving forward with its recently released Delphi 11 (RAD Studio Alexandria). It means that they are finally moving off the 10.x series and will introduce us all to a new era. This transition, however, is more than just a version number change as they introduce a large number of improvements and modernization to leverage the user's experience. In this video, Marco Cantu will share with us the amazing details about the recently launched Delphi 11 as well as the things in store for the future of Delphi.
Can we go beyond 10x? The Future of Development with Delphi
Delphi is indeed considered the ultimate ide software for building applications in modern object pascal with powerful visual design tools and integrated toolchains. In this video from the recently concluded Delphicon2021, Marco Cantu will guide us through all the changes made for Delphi 11 as well as the roadmap of the improvements and developments we can expect from RAD Studio in the near future.
Delphi is focusing more on quality, leveraging most of its features to provide the utmost experience for developers. Some of the major changes in Delphi that are indicated in this video include the newly improved 4K Support that provides users with High DPI IDE. It also made various improvements related to the Windows platform including the powerful Windows App SDK, a large number of key subsystems like WebView 2, winUI3, MSIX patch packaging, and Window Windowing extensions. Delphi 11 also introduces MSIX and Window Store Support where you can use the Delphi IDE directly to build and deploy applications that are ready for the store.
What are the other noteworthy changes in Delphi 11?
They also leverage the VCL Per-control styling component that allows users to pick a native style for forms or controls and preview them at design time. They also added new controls that are focused on creating a modern UI and high-performance UI via TControlList VCL Component. They also made notable VCL Modernization works including a large collection of small improvements focusing on removing any legacy limitations that were based on the older version of Windows API to make sure that you have the best experience and the best integration with the platform.
Other noteworthy changes include Fire Monkey and Multi-Device Development, new macOS 64vit ARM Target platform, Android 64-bit support, better FMX windows and desktop integration, further compiler performance optimizations. To know more about the future development in Delphi as well as the product roadmap, and some relevant Q & A sessions, feel free to watch the webinar below.
Do you want to try the latest version of Delphi? Why not download a free trial of RAD Studio Delphi aujourd'hui?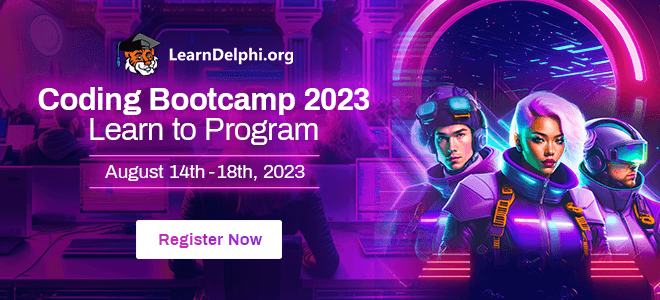 ---